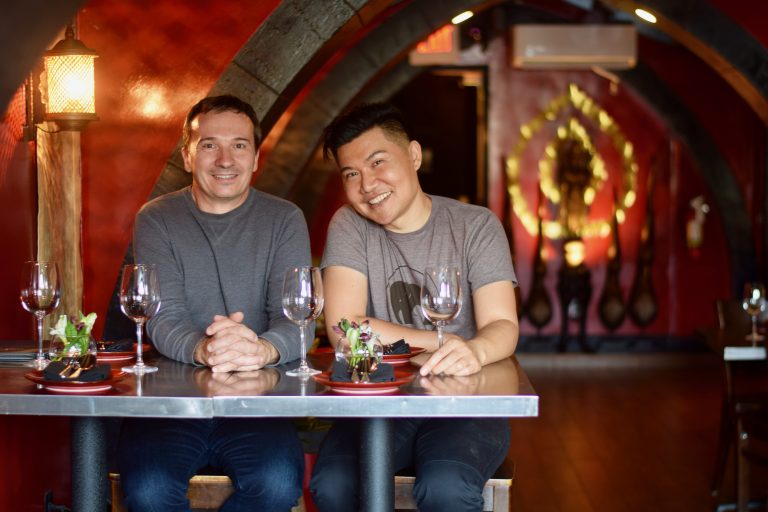 Ty met Andre back in 2008 as a regular guest at Frenchy's Bistro, he later offered to consult to improve the desserts' menu and he sure did, both were sharing the same passion for food and the Restaurant business and became quickly friends.
Both Ty & Andre bring 50 years of experience to this already popular project, a culinary delight by Ty and his team and Andre's long history and followers in Long Beach and extensive management experience for the front and the back of the house making this concept a boutique and unique Thai Restaurant like no other.
Chef Ty a native of Chiang Mai, Thailand brings a rich & broad culinary package to Thai District downtown Long Beach at Broadway & Linden in the center of the bustling Art District. His career begins at an early age with his Mother developing a passion for handling food, cooking it and eating it!
After finishing college in Bangkok graduated in business degree, he then wanted to pursue his MBA in the USA via Long Beach California, he realized that MBA wasn't his goal but cooking was always a passion of his, he decided to follow his dream by enrolling Le Cordon Bleu, Culinary and Pastries programs and decided to further more his study in Culinary, Pastries and Hospitality at the famous (CIA) Culinary Arts Institute in Hyde Park NY . With both high credential schools — where he was able to learn the classic cooking techniques and the Pastries, which he quickly fell in love with, shortly after finished the CIA he then started internship then worked for celebrity TV show Chef Ron Ben Israel in NY his career then took off, he moved to LA and joined The Four Seasons Hotel Beverly Hills, where he perfected modern Italian desserts at "Culina" for a couple of years, he then was hired to open The Ritz Carlton LA Live, joined the pastry team at Montage Hotel Beverly hills before " Thai District" Needless to say he brings to Thai District a 20 years experience and something very unique to any Thai Restaurants out there, modern presentation and most importantly his amazing take on classic Thai desserts presented in a revisited and deconstructed way.
Andre is a French native, precisely from Avignon with similar passions at an early age, attended Culinary School for three years where he learned the service, cooking and pastries, went through an tough apprenticeship in the kitchen and got hired in Switzerland where he worked and resided for four years. At his return to France he got hired by the famous Three Michelin stars Chef Roger Verge at the Moulin de Mougins a famous destination for movie stars on the Riviera, needless to say how amazing of an experience this was. Moving to LA 20+ years ago his first job was at l'Hermitage Hotel on Burton Way (Private & Exclusive Property) from there went to work for Pastel in Beverly Hills and l'Orangerie, moving to Long Beach he was immediately hired by Long Beach's only Classical French Restaurant La Grotte after a couple of years he loved the weather, the town, the vibe and decided to settle in Long Beach, bought his house in 1993 and opened Frenchy's Bistro in 1996 which became very quickly famous in town and was rated 27 out of 30 by Zagat for the food for a long 15 years. The lease ended after 15 years and Andre needed to take a "breather", after a few month's break visiting France, friends and family, came back to Long Beach and started working as a Restaurant Manager for the prestigious Balboa Bay Club in Newport Beach until Thai District opened it's doors on February 3rd 2015.